The Uk is not exactly known for beach-friendly weather conditions. Nevertheless, it is home to some gorgeous-looking beaches.
From golden beach sands to windswept dunes to sparkling waters, these are the perfect locations to go sunbathing or go dipping in the waters when the weather calls for it.
Our 6 Top Beaches to Visit in the UK
Kynance Cove, Cornwall
If you've heard of Kynance Cove before now, you might be aware that it is one of the most photographed spots in Cornwall. That alone should make you want to visit this much-talked-about location to see what all the fuss is about.
Truthfully, Kynance Cove is worth all the hype and more. From islets to dunes and sea stacks, this iconic landscape is a beauty to behold.
Pay a visit here in the spring when flowers of yellow, purple, and blue begin to bloom and you'll be glad that you did. It truly is a picture-perfect scene. And when summer comes, the clear blue waters and sandy shores welcome swimmers and sunbathers.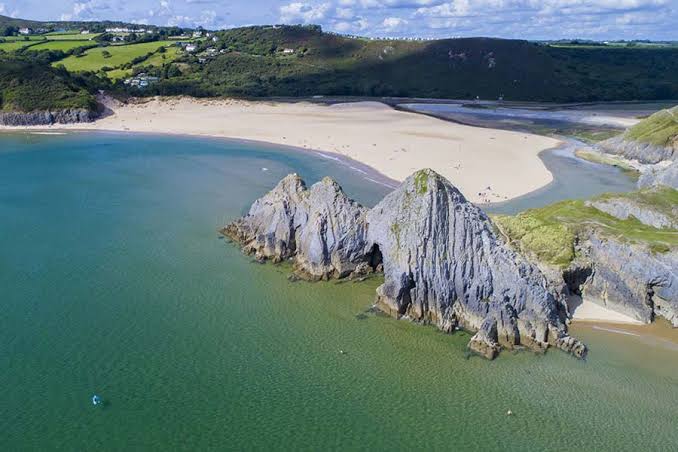 Pentle Bay, Scilly Isles
South of Cornwall is the Scilly Isles where several amazing islands are located. One of the most notable of them is a little island known as Tresco. East of Tresco is where you'll find Pentle Bay. This remote beach is one of the most stunning beaches you can find in the UK.
The white sandy beach and clear waters are a sight for sore eyes. The vibrant grassland and the sound of birds chirping give a serene feeling. And if you're lucky, you might catch sight of a dolphin.
Oxwich Bay, Wales
As far as beaches are concerned, Welsh beaches are as stunning as they come in the UK. One such that must be mentioned is Oxwich Bay beach. Making up the Gower coast, this gorgeous beach has one of the most breathtaking landscapes you will ever see.
Salt marshes, windswept dunes, dreamy woodlands, and rolling hills are some of the best features to look out for on this scenic Welsh beach. Come summer, you'll find the shallow waters quite appealing for a swim.
Durdle Door, Dorset
With summer fast approaching, you might be thinking of a place to visit without having to use a passport. The coastline of Durdle Door, otherwise known as the Jurassic Coast, makes a perfect summer getaway in the UK.
Head over to Dorset to see the UNESCO World Heritage Site in all its awe and wonder. Its famous limestone arch stands magnificent from along the sandy coastline to the front of the waters.
The golden sands and panoramic deep blue seas are only a couple of the things that will enthrall you on your visit to this magnificent natural wonder.
Luskentyre Beach, Harris, Scotland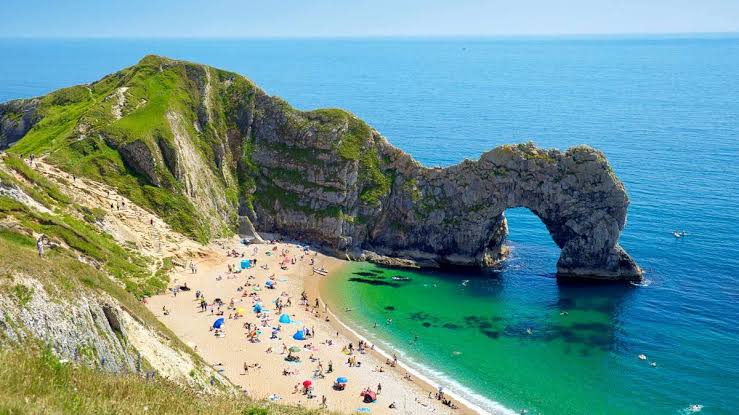 One glimpse at Luskentyre beach and you'll see why it's one of the best beaches in the UK. The landscape is clearly one of the most beautiful and serene, and it makes you feel like you're in paradise.
It is one the most popular beaches on the Isle of Harris, Scotland, being famous for its clear blue waters, white sands, and scenic mountain views.
Luskentyre is the go-to beach destination when you need to be surrounded by the splendor and tranquility of nature.
Three Cliffs Bay, Wales

Another one of the UK's best beaches is Three Cliffs Bay. Offering an extended water view, dunes, a beautiful landscape, and a quiet and cozy atmosphere, this beach is a perfect spot for an escape on the Welsh coastline.
Take a hike around the coastline. Or, go horseback riding if you're a fan of horses. It's also a great spot to go picnicking with friends and family. The kids can wade in the water along the sandy shores.