Travel has evolved over the years from horsecars to electric-powered trams and trains. In today's world, travel by fast cars and airplanes is a norm. But, there is something exciting about a good old train journey, and Texas boasts of some of the most incredible train ride adventures.
Whether you're seeking a nostalgic feel or you want to take your kids on an adventurous trip, there's a lot to see, a lot to learn, and a lot more fun to be had when you're aboard one of the best train rides in Texas.
From spotting wildlife to taking pictures of the special bluebonnets and breathtaking scenery, you'll experience nothing short of a memorable train ride.
3 Best Train Rides in Texas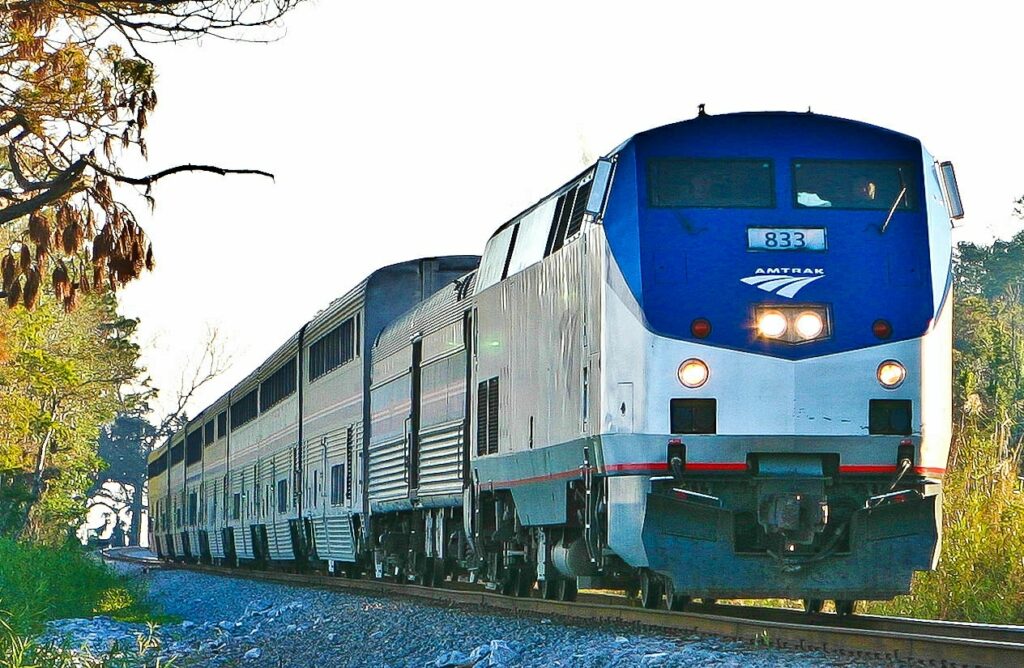 Texas State Railroad
The Texas State Railroad is one of the most popular train rides in Texas, and it's for good reason. This 4-hour train ride takes you 50 miles through the piney East Texas woods beginning from Palestine, all the way through the rolling hills, and ending in Rusk.
Before beginning the trip, passengers are given an orientation to help them familiarize themselves with the history and heritage of the Texas State Railroad.
You get to behold beautiful scenery as you journey back in time on this old-fashioned steam engine. You even get an opportunity to ride in the caboose, observation car, open-air car, or presidential car. When you get to Rusk, there's a campground where you can stay overnight if you want.
It's a perfect opportunity to learn new histories, meet people, experience scenic views, savor good food and drinks, and have a swell time with family.
There are many themed excursions offered at the Texas State Railroad including the Polar Express train ride, the Wine Train, and the Pumpkin Patch Express train ride.
The Pumpkin Patch Express is a Halloween-themed train ride perfect for kids. This 30-minute round trip includes bounce houses, trick-or-treating, spooky music, and hayrides. In the end, each child gets to take home a pumpkin for carving.
Austin Steam Train Association
Located in Cedar Park, Austin Steam Train Association offers a variety of train excursions that take passengers on spectacular trips through the Texas Hill Country. Such excursions include the North Pole Flyer, the Moonlight Express, and the Wine Train. But the most famous of them is the Hill Country Flyer.
This train ride is especially famous between February and April because springtime is usually the bluebonnet season. Many passengers hop on the Hill Country Flyer in hopes of catching the delightful bluebonnets in full bloom and taking stunning photographs of them.
In this six-and-a-half-hour-long ride, you get to see vintage train cars and tour the picturesque Hill Country. You get a 2-hour layover in Burnet where you can have lunch, shop, or take a stroll around the town square before making your way back to Cedar Park. It's nothing but 66 miles of bliss.
Sunset Limited
Many Amtrak routes pass through the state of Texas. One of the most popular is Sunset Limited. The train leaves New Orleans and stops in Los Angeles with multiple stops in between its 48-hour long ride. Passengers can get on or off the train in Houston, San Antonio, and Alpine.
Sunset Limited offers a perfect opportunity to explore major cities. You also get a chance to see many attractions like the Big Bend National Park and get a view of the West Texas desert. The train ride offers perks such as cafe cars, sightseeing cars, coach seating, dining, and sleeping cars too.
Other popular Amtrak routes include Texas Eagle which travels from Chicago to San Antonio and is perfect for fall foliage viewing. Heartland Flyer is another popular Amtrak route that runs from Oklahoma to Fort Worth.